There is a lot to report on as we increasingly attempt to get our physical, social and mental bearings. I'll touch a bit on the high (and low) lights of each.
Walking - Touring - Drinking - Dancing
This past weekend, we started to explore the different neighborhoods and sites of Tokyo, of which there are no shortage.
On Friday, we walked to and ascended Tokyo Tower (
東京タワー),
the second tallest building in Japan. Dying for some fast facts?
Second tallest building in Japan
Design was inspired by the Eiffel Tower
333 meters tall (13 meters taller than Eiffel's)
Constructed in 1958
It has two observatories, the main observatory (150m) and the special observatory (250m)
Source:
Among my first observations was the Tower's color: an aggressively ugly shade of orange. I have since learned that this color ("international orange") is required of structures of this height to comply with international air safety regulations. That is the only acceptable excuse for this shade of orange.
We ascended to the main observatory and got a fantastic view of this sprawling city, which dwarfs New York City in terms of square kilometers. In the morning (8-9am) on a clear day, you can see Mt. Fuji in the distance. We went in the afternoon so the mountain was hidden in the brilliance of the low-hanging sun.
At the base of the Tower, within the confines of its four legs, is what I can only refer to as a 4-story mall -- a real tourist trap. We perused the goods and found this:
Combustion-dried Cuttlefish by Hello Kitty
Yep, Hello Kitty makes combustion-dried cuttlefish, and combustion-dried cuttlefish is a snack here.
In case your wondering about the combustion-drying process... (
click here
). By the looks of this video, combustion-dried cuttlefish is possibly the "street meat" of another corner of the world.
I can't even.
On Saturday, we attended a self-proclaimed "international" bar crawl through the Roppongi (
六本木)
neighborhood of Tokyo. Roppongi is a vibrant nightlife and entertainment area, with an inescapable seedy element. It is a short 10-12 minute walk from our apartment, but the change of scenery is dramatic as compared to our little slice of cobblestone street zen.
I found the event through a site called Meetup that gets people together to do any number of activities - hiking, photography, eating, language learning, etc. I thought the crawl would be a good way to get introduced to the nightlife and, hopefully, meet new people somewhat naturally.
Upon arriving to the first bar, we were confronted with the immediately undeniably fact that we were among the oldest people there, if were not the absolute oldest attendees. The majority of the crawlers appeared to be college-age kids and the demographic heavily favored native English speakers and, by that, I mean Americans. Put plainly, we found ourselves at a frat party at the ripe old age of 30. OK, I am actually only 29, but the difference between 29 and 30 doesn't matter much when the average age is decidedly south of 22 and your first and most friendly acquaintance of the evening is 19. Nineteen! He was a Brazilian guy in his first year of college. He held my non-cane bearing arm as I teetered across each of the streets with my knee high socks slouching into my orthopedics.
The frat party feel was quickly amplified by the booze and the increasingly loud music at each successive location. At bar 3 of 4, a young man stood up on a table and depantsed himself... by choice.
I desperately want to follow that sentence with "and I left immediately," but I didn't.
I just turned away and continued to talk to the small but civilized cadre of teenagers that had bonded, perhaps out of pity, with us old farts. Perhaps I couldn't bear the double humiliation of 1) not having anticipated that we would be the oldest person at such an event and 2) subsequently leaving because of the behavior of "kids these days"? But I would be disingenuous to deny that there was an element of generational rubbernecking. I had to see just how disastrous this fiasco could be.
I can only hope I looked elegantly mature and too sophisticated to deign to validate the evening's shenanigans with my attention. Something like this:
But I'm pretty sure I ended up looking more like this: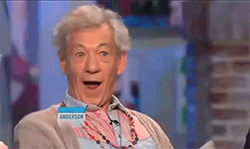 Bar 4 was a full-on dance party, and we lasted there for no more than 15 minutes. I felt victorious to have made it to the last official stop on the teenage party train. The next morning I signed myself up for a group called "ladies who brunch" and the two of us up for a hiking group.